Oyogit.com has learned that Controversial journalist Kemi Olunloyo has warned slay queens based in Ikoyi and Lekki to pipe it low as they consume shisha, weed, and other harmful substances.
According to the 57 years old, they wouldn't be like her when they aged because of their unhealthy lifestyles.
Kemi shared some throwback pictures of when she's 16 in 1980 and in 2019 when she's 55 and explained that makeup never did justice to her skin, rather it is a healthy lifestyle devoid of smoking or heavy drinking.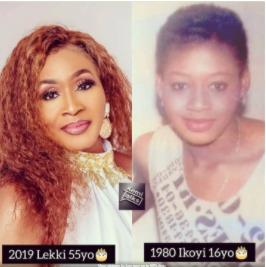 She wrote; "Pardon me luv. Can I just warn all the slayqueens in Ikoyi and Lekki smoking everything from shisha to weed, drinking heavily, snorting cocaine and pussy trading #chidinmasyndrome: YOU WILL NOT LOOK LIKE ME AT 55YO !! I will be 57yo in 3 weeks!!
It's not about make up and wigs or a doctorate degree in Pharmacy. It's about living healthy throughout your lifetime. For those famous people who happened to be at my #sweetsixteenparty hope you remember that day August 6th 1980
@ruthosime @nikeadeyemi @bukolasaraki
Say no to substance abuse in every form young ladies. @ndlea nigeria I'm calling www.soon. We gotta work II"